New Hampshire Online Sports Betting 2021
Mobile sports betting is now live in New Hampshire with DraftKings being the first, and only, sports betting app to launch in December 2019.
New Hampshire has officially legalized sports betting in July 2019.
Governor Chris Sununu has signed the sports betting bill into law after members of the New Hampshire House have voted on the approval of the legislation of the H 480 bill. Several amendments were made to the original bill, which included allowing multiple operators – mobile operators are capped at 5 and land-based operators at 10. NH Sports betting will be regulated by the New Hampshire Lottery Commission.
This allowed a number of sports bookies and betting operators to conduct business in the state, however, DraftKings has been chosen as its sole retail and mobile sports betting operator. Below we'll go over some good things in our sports betting guide for you to know about all the latest developments to create legal sports betting in New Hampshire.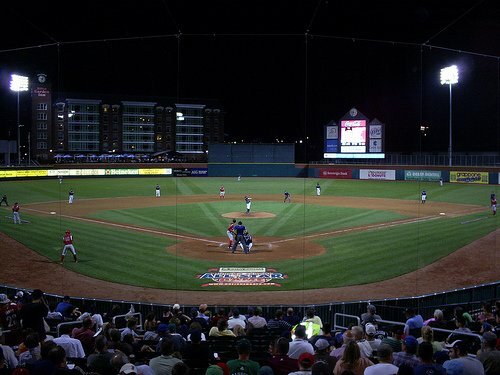 Photo by Craig Michaud. This is MerchantsAuto.com Stadium in Manchester, New Hampshire. Home of the New Hampshire Fisher cats.
DraftKings now offers mobile and retail sports betting in New Hampshire
After sports betting was legalized in July 2019, the NH State Lottery invited operators to place bids on what they could potentially offer in terms of land-based, mobile and lottery betting.
DraftKings has been selected by the State Lottery to be the sole sports betting (retail and mobile) operator in the state. The Lottery Commission had the possibility of choosing up to 5 operators, but decided to go with DraftKings only after the company offered to pay them 51% of the revenue if it was chosen as the sole operating agent. Intralot was chosen to provide a parlay style lottery product.
The Boston-based company is already well-known for Fantasy Sports across the US, but has recently moved into sports betting with online and mobile platforms available in NJ, PA, WV and IA. From December 2019, the DraftKings sports betting app is also available for download in the Granite State.
The contract with the NH State lottery requires DraftKings top open at least 4 retail sports betting locations and could include up to 10. Six different cities have approved venues for retail sportsbooks, which should see the day sometime in 2020.
NH Legal Sports Betting Overview 
Until now, NH online sports betting was mostly illegal in the state of New Hampshire with the exception of New Hampshire Online Horse Betting and fantasy sports. However, the H 480 bill regulating sports betting has been signed by the governor making sports betting legal in the Granite State.
The house sponsor of the bill, Rep. Timothy Lang, a Republican, had asked the Senate Committee on Ways and Means to make two amendments to the bill that was originally passed by this chamber. The first of the two amendments that Rep. Lang asked for was to remove a cap on land-based casinos and sports bookies (currently set at 10). Secondly, he asked for it to be prohibited for in-game betting to be available at retail locations. In the end, the bill passed with the following conditions: mobile sports betting operators are capped at 5, while retail sportsbooks are capped at 10. This is less than what was expected, but already a good start.
The NH Lottery will create a Division of Sports Wagering and become the regulator of sports betting in the state. The legal gambling age in the state will be of 18 or older. Similarly to other states that have legalized sports betting, wagering on NH collegiate teams and collegiate games taking place in the state will be prohibited.
The sportsbook will have to negotiate their own terms with the New Hampshire Lottery. Remote registrations and online in-play betting will be permitted.
Now, it is only a matter of time before the first sportsbooks launch in the state. The launches are planned in time for the Superbowl, but let's hope there will be some updated beforehand.
You can also read more about NH Casinos and what type of gambling is currently available.
NH Online Sportsbooks
So now that the bill for legal NH Online Sportsbooks is signed, which of the best online sports betting apps are likely to start operating? It is likely that some of the biggest names in legal online sports betting will come to New Hampshire with up to 10 operators expected to create online sports betting apps. For now there are just a couple that are available for horse race betting. Let's go over a few of those.
TVG
The sports operator TVG is one of the best for placing bets on horse racing around. They have been in New Hampshire for a while (where horse race gambling has been legal since 1978), and currently offer new users a $20 free play welcome bonus, as well as offering a 100% match on initial bids up to $100.
BetAmerica
BetAmerica is another one of the NH online sportsbooks that currently allow legal online betting for horse racing. They offer iOS and Android Apps, live streaming and handicapping tools.
TwinSpires
Lastly, one of the lesser-known, but still very popular betting operators for legal sports betting in New Hampshire is TwinSpires. As with BetAmerica and TVG, TwinSpires only has horse racing available for legal online betting at this moment in time.
NH Online Sports Betting Apps
Although the State Lottery had the possibility of choosing up to 5 operators to offer sports betting apps in the state, they have decided to only pick one: DraftKings.
Luckily, DraftKings is an industry leader and already offers a great product in other states where online and mobile sports betting is legal. Therefore, we can expect a quality sports betting app with a good interface, market coverage, betting lines and live options.
DraftKings Sportsbook App
The Draftkings App launched in New Hampshire in December 2019. Governor Chris Sununu placed his first bet with the app – $82 on the Patriots winning the Superbowl.
Now, anyone over the age of 21 within the limits of the state can download the DraftKings app, create an account and start betting on their favorite sports.
NH Online Fantasy Sports Betting
At present, there are a couple of operators that provide users with online fantasy sports betting in New Hampshire. Fantasy sports betting has been allowed in New Hampshire since 2017, after the HB 580 law was signed and put into place. This law allowed major daily fantasy sites already in operation the legal clarity and a level of consumer safety and security that did not exist when they were unregulated. In order to bet on fantasy sports in New Hampshire, you have to be at least 18 years of age. Let's take a quick look at a couple of fantasy betting operators that are currently legal and in operation in New Hampshire:
Monkey Knife Fight
This is one of the latest operators to join the Daily Fantasy scene. Monkey Knife Fight offers a range of prop games, based on players' statistics. Currently, you can claim a $50 site credit bonus with the Monkey Knife Fight Promo Code.
FanDuel
FanDuel is one of the most popular platforms for people looking for the best online sports betting apps. At present, they are offering new users who create and register an account up to 4 free entries into fantasy sports contests. FanDuel offers users the opportunity to bet on a variety of fantasy sports including basketball, football, soccer, and more!
DraftKings
Another popular platform is DraftKings. They are currently offering new users who sign up and activate an account 1 free contest entry. Similar to FanDuel, you can also bet on a number of different fantasy sports through DraftKings online sports betting platform. Sign up and take advantage of this great welcome offer today!
Online Sports Betting in Other States: